English Grammar Wall Posters
A set of six laminated Grammar Wall Posters, 500mm (w) x 707mm (h).
Technology No. 27-007
A set of six large posters covering the foundations of English grammar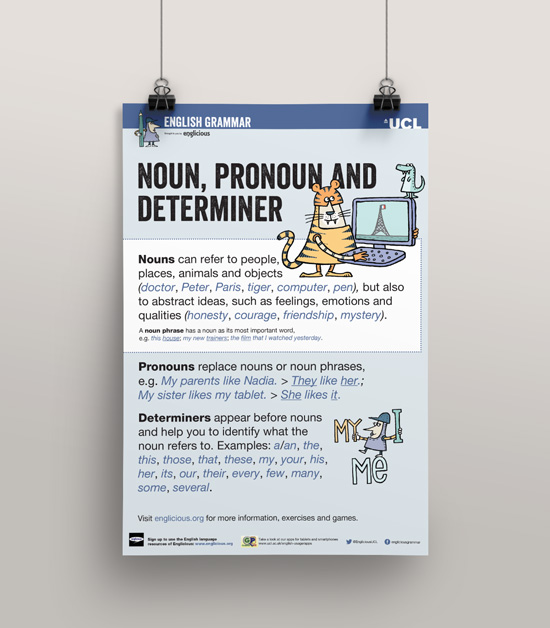 Our set of six laminated Grammar Wall Posters, 500mm wide x 707mm tall (B2), cover the topics 'Noun, Pronoun, and Determiner', 'Verb', 'Adjective, Adverb and Preposition', 'Conjunction', 'Sentence, Clause and Clause Types', and 'Grammatical Form and Grammatical Function'.
This product is designed to be used together with the Englicious website (www.englicious.org).
Free postage and packaging in the UK. For overseas orders, prices will be based on this price plus postage and packaging to your location.
Due to the COVID-19 outbreak, UCL buildings are currently shut and delivery of orders may be significantly delayed. You may wish to check availability before placing your order by emailing us at: b.aarts (at) ucl.ac.uk and s.wallis (at) ucl.ac.uk.
Also available
| | | |
| --- | --- | --- |
| | | |
| English Grammar Classroom Pack | English Grammar Flashcards | English Grammar Knowledge Organiser |
Get in touch to discuss alternative licensing options